Preparing For an Interveiw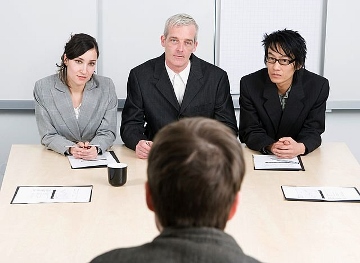 Do you have to give an interview? Do you know how to prepare for an interview? Well, to be honest, there is nothing scarier than having to give an interview. For many of us, the thought of sitting before an authority figure or a panel of people who will determine our future causes perspiration to form on our foreheads and our palms to become sweaty.
In all actuality, this is a normal and expected response. There is a lot of stress and pressure that goes into an interview mainly because we recognize that there is a lot at stake (this means there is a lot to lose) in a typical interview situation. However, we must also recognize that we are not destined to forever struggle our way through interview after interview. There are a few things we can do to prepare for a job interview so that we can reduce the anxiety and stress which will ultimately help us perform better.
1. Realize A Job Interview Starts Before the Actual Interview:
Potential employers will most likely do a little research about you before they call you in for an interview. This means, they're going to Google your name, visit your social media profiles and contact your references. What this means is that you need to ensure that what is presented about you on the web, Facebook, etc... is both accurate and appropriate. so get busy and freshen up your social media profiles.
2. Become an Expert in the Company you are Applying For:
If you don't know anything about the company you are interviewing for they will assume that you don't care and don't really want the job. You should find out:
What the company specializes in.
How the company makes money.
What their profit margins are, how well they did last quarter.
What the scope of the company is (where in the world they operate).
Any recent news or press about the company
The company culture.
3. Prepare! Prepare! Prepare!:
There is no reason for you to go into an interview clueless and unprepared. Most interviews are run by an HR company or department and generally speaking, they will ask similar sets of questions. By taking time to prepare for questions that might be asked you can gain the advantage. That's what this article is for - to help you understand the necessity in preparation and to set you in the right direction. Below are some resources and links to resources that will help you prepare for any kind of interview.
Some Interview Resources
1. If you need to prepare for Group Discussion check out our GD page or come by the Institute where we do Group Discussion on a weekly basis.
2. This is an amazing interview cheat sheet. It provides the most common questions with examples and explanations of why a question is asked and what is expected in the answer. Take some time to thoroughly read through this and prepare some answers of your own:
Interview Questions Dos and Donts.pdf
2. Cell phone apps. Don't underestimate the power of your cellphone and its ability to help you learn a language or prepare for an interview. Here are some apps listed by operating systems:
Android/Google Play
Windows Mobile
At Venture English Institute, we offer personalized interview preparation. If you would like help with your interview skills, or need some interview tips we want to help. Contact us and we can set up a meeting to discuss your needs.